Welcome to Police Chaplains Ministry
Serving active and retired men and women of the Chicago Police Department and their families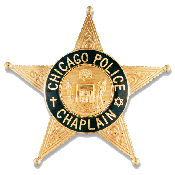 POLICE WORK
"The credit belongs to those who are actually in the arena, who strive valiantly; who know the great enthusiasms, the great devotions, and spend themselves in a worthy cause; who at best know the triumph of high achievement; and who, at worst, if they fail, fail while daring greatly, so that their place shall never be with those cold and timid souls who know neither victory nor defeat."
― Theodore Roosevelt
1858 - 1919
19th Annual Police Golf Outing - 10 July 2017


Saint Michael The Archangel Council 12173, Patron of Police Officers and Soldiers
Some of the younger CPD members have organized a fundraiser to support our cause: pastoral care and 24/7 crisis ministry to active and retired members of the Chicago Police Department....as well as our constant attention to CPD's beloved Gold Star Families. Join us Thursday, 20 JUL, 6-9 pm at The Rabbit Hole: 1208 N. Wells Street. A $40 donation gets you admission, food, drink, entertainment and great company. The event will likely sell out, so please contact Detective Gia DiVito, our organizer, to secure your tickets: Gia.DiVito@ChicagoPolice.org
News

Please check out this video from the Chicago Police Memorial Foundation...


more
Police Mass
Date: Every Second and Fourth Sunday
of the month.
Time: 11:00 a.m.
Location: Mercy Home for Boys and Girls
1140 W. Jackson Boulevard, Chicago
Photo Album

Video Library

Click HERE for Police Chaplains Ministry Video Library
Since our website's inception on 01 JAN 2012, you are visitor #