Photo Album 2017


At the 2017 St. Patrick's Day party sponsored by Brotherhood for the Fallen were (L-R) Joe Fronczak, Nick Forrestal, Andy Cassaro, Fr. Dan Brandt, Brian Warner, Marty Natividad, Mary O'Callaghan and Kevin Leahy. Congratulations to Nick, Andy, Marty and Mary, members of recruit class 97-1A, who that evening celebrated their 20th anniversary on the job!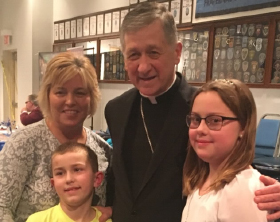 On 16 FEB 2017, the CPD SURVIVORS hosted a resource night at the FOP hall. Featured were many resources and outreaches available to CPD members and retirees. Live music, a bar, delicious food, and a raffle with great prizes were also available to the hundreds who attended. Even Cardinal Blase Cupich, Archbishop of Chicago, stopped by!
Click for PC Slideshow
or
Click for Mobile Slideshow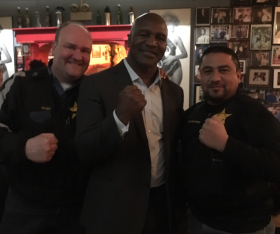 Chaplains Bob Montelongo and Fr. Dan Brandt had the honor of enjoying dinner at the same table with world-champion boxer Evander Holyfield on 15 FEB 2017. Though Evander declined our challenge to take him on in the ring (clearly he was scared), he DID oblige our request for this photo. What a gentleman!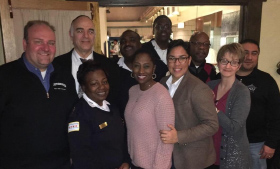 On 04 JAN 2017, the St. Jude Police League hosted our volunteer St. Jude League chaplains to a new year's dinner at Greek Isles Restaurant. Thank you to our St. Jude League board ... and to the many volunteer chaplains who lead prayers at CPD family members' wake services.

Click for PC Slideshow
or
Click for Mobile Slideshow
Photo Album
2011 2012 2013 2014 2015 2016 2017