Welcome to Police Chaplains Ministry
Serving active and retired men and women of the Chicago Police Department and their families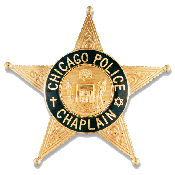 THIS SUNDAY, 25 FEB, CMDR PAUL BAUER WILL BE REMEMBERED AT THE POLICE MASS. DUE TO A LARGER CROWD THAN USUAL, THE MASS WILL BE HELD AT THE
FOP HALL, 1420 W. WASHINGTON BLVD.
WE WILL GATHER AT 11:00 AS USUAL, AND FOOD AND REFRESHMENTS WILL BE SERVED AFTERWARD. ALL MEMBERS OF CPD--ACTIVE AND RETIRED--ARE MOST WELCOME...ALONG WITH YOUR FAMILIES.
LET US CONTINUE TO HOLD IN PRAYER ERIN AND GRACE BAUER, ALONG WITH PAUL'S PARENTS AND SIBLINGS...AS WELL AS HIS HURTING BROTHERS AND SISTERS IN BLUE!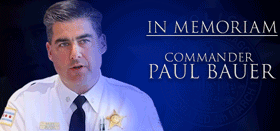 Rest In Peace, Commander Paul Bauer. You are a true Chicago hero. We love you.
Click >>HERE<< to view Channel 5 news story.
POLICE WORK
"The credit belongs to those who are actually in the arena, who strive valiantly; who know the great enthusiasms, the great devotions, and spend themselves in a worthy cause; who at best know the triumph of high achievement; and who, at worst, if they fail, fail while daring greatly, so that their place shall never be with those cold and timid souls who know neither victory nor defeat."
― Theodore Roosevelt
1858 - 1919
Since our website's inception on 01 JAN 2012, you are visitor #